St. Lawrence River Institute of Environmental Sciences set to launch Craft Beer Waterprints with Econse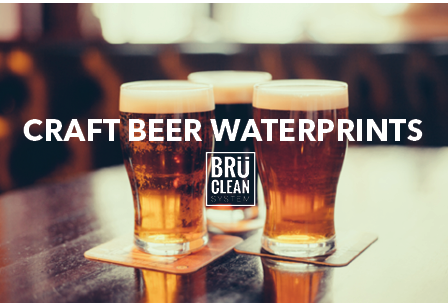 Toronto, Ontario – September 27, 2016 – The St. Lawrence River Institute of Environmental Sciences (River Institute) is pleased to partner with Econse on the Craft Beer Waterprints project, which will launch at the Ontario Craft Brewers Conference on October 13th, in Toronto.

Like a footprint or fingerprint representing the unique impact that a business has on water systems in its community, Econse's Craft Beer Waterprints measure and analyze the wastewater that craft breweries produce to improve their water quality and make it easier to meet local wastewater targets. The River Institute received funding in addition to both technical and business advisory services from the National Research Council of Canada's Industrial Research Assistance Program (NRC's IRAP) to support the Craft Brewers Waterprints project.
Louis Savard, Program Leader of Applied Research and Technical Services with the River Institute, said, "We've been focused on practical research initiatives that can be used by industry quickly and easily. Our goal from the year-long project is to give craft brewers results within a month that they can apply right away in a step-wise approach to wastewater management." With community action in their DNA, the River Institute specializes in applied research in the environmental sciences for industry and local municipalities.
Derek Davy of Econse said, "We are excited to partner with the River Institute to help small to midsized breweries understand their waterprint so that they can make informed decisions about their operations and have a positive impact on their community." The team from Econse will be at the Ontario Craft Brewers Conference with the River Institute and craft brewers will be able to sign up and benefit from this initiative at the conference.
Econse, a Canadian next generation water purification company for small and midsized businesses and remote communities, developed BrüClean to meet the specific needs craft brewers have with water management. BrüClean is designed with science-first innovative technology in a modular system that's quick to install, chemical-free and tells local regulators they're serious about meeting wastewater targets. Econse's BrüClean and Craft Beer Waterprints are the result of partnerships with Bloom Centre and leading craft brewers in Ontario to manage wastewater at source.
Contact: Derek Davy, Business Development, ECONSE
[email protected] (416) 606-5014
Louis Savard, Program Leader – Applied Research and Technical Services
St. Lawrence River Institute of Environmental Sciences
[email protected] (613) 936-6620 ext. 301
riverinstitute.ca/
https://econse.com/wp-content/uploads/2021/04/BruClean-postcard.png
306
448
ideazone
https://econse.com/wp-content/uploads/2021/02/econse-water-logo3.png
ideazone
2021-04-05 17:17:45
2021-04-05 17:17:45
St. Lawrence River Institute of Environmental Sciences set to launch Craft Beer Waterprints with Econse