ECONSE advances in George Barley Water Prize The fight against Phosphorus Pollution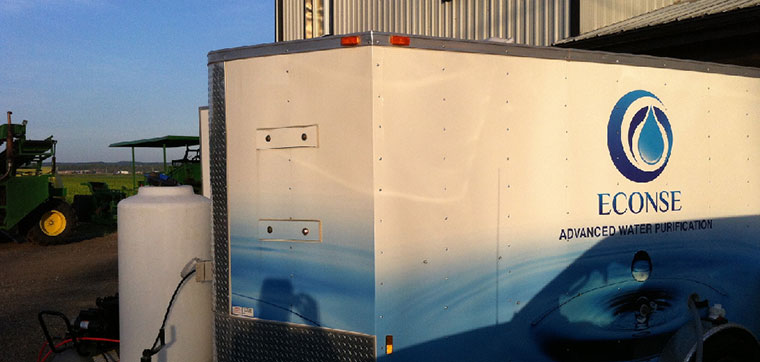 Econse Water Purification Systems Inc. is proud to announce that their technology was chosen to advance to the semi-final round in the George Barley Water Prize.
As the only Canadian company to advance, they will now compete with 9 other academic institutions and companies from around the world in a global effort to help reduce the effect of phosphorus pollution on our precious waterways.
The George Barley Water Prize is a crowdsourcing innovation challenge looking to find the best solutions for removing phosphorus from bodies of water. Private companies and academic institutions develop and demonstrate how their next generation technology can help drive change.
Phosphorus in water can accelerate weed growth and algal blooms, a problem "becoming more and more frequent," says Sabrina Ternier, with the Ministry of Environment and Climate Change's Environmental Innovation Branch. "This is a global issue and it's going to take global innovation to solve."
Econse is an Ontario based company that develops water and wastewater solutions for niche problems facing SMEs and local businesses across Canada. After working with Craft Brewers to provide on-site treatment BrüClean System, Econse began exploring ways that their technology could be adapted to help other larger environmental issues.
"We were contacted by the Ontario Ministry of Agriculture (OMAFRA) and the Ministry of the Environment (MOECC) to see if we could help and support the Holland Marsh Growers Association as they worked to find a better way to reduce nutrients entering Lake Simcoe from local farms." Says Derek Davy, co-founder and head of business development for ECONSE. "We brought our equipment in to demonstrate how washwater could be easily treated and re-used in a safe, and chemical free way" Shortly after the results were published Econse was asked to join the George Barley Water Prize.
In 2017, Georgian College in Barrie was recruited to assist the ECONSE team in testing and analysis. "With financial assistance from OCE, a Provincial Grant, Georgian College students were able to operate and evaluate the Econse technology and support the project by providing valuable feedback and reporting." Says Dr. Mira Ray, Director for the Centre for Applied Research and Innovation at Georgian College.
Upon the completion of the George Barley Water Prize, Econse hopes to continue research to help farms, businesses and conservation authorities in the Lake Erie region through the use of their technology in support of achieving targets set out in the Great Lakes Conservation Agreement.
Econse graciously acknowledges the Holland Marsh Growers Association, WaterTAP, Haltech, Bioindustrial Innovation Canada, Innovation Guelph, BLOOM, MaRS, Runway Financial, and Gilberts LLP in supporting our efforts as we develop the next generation of chemical free water treatment.
For more information please contact:
[email protected]
http://www.barleyprize.com
https://binational.net
https://econse.com/wp-content/uploads/2021/04/eco-blog.jpg
362
760
ideazone
https://econse.com/wp-content/uploads/2021/02/econse-water-logo3.png
ideazone
2021-04-05 17:14:22
2021-04-05 17:14:22
ECONSE advances in George Barley Water Prize The fight against Phosphorus Pollution